Located at 791 S Fieldstone Blvd, Bloomington, IN 47403
Through the support of a private endowment, generous donors, local businesses, and growing our internal revenue sources, we purchased 6.48 acres with the dream of opening the Monroe County Humane Association Animal Care Campus.
In August 2019, we broke ground for Phase One and Phase Two.
In April 2020, we opened our doors to clients and patients for our Nonprofit Veterinary Clinic and Pet Food & Supply Pantry.
The Animal Care Campus is home to a full-service Nonprofit Veterinary Clinic, Pet Food & Supply Pantry, E. Susan Bartlett Housing Center for dogs & cats, grooming & bathing facilities, public pet walking trails, and a pet memorial garden.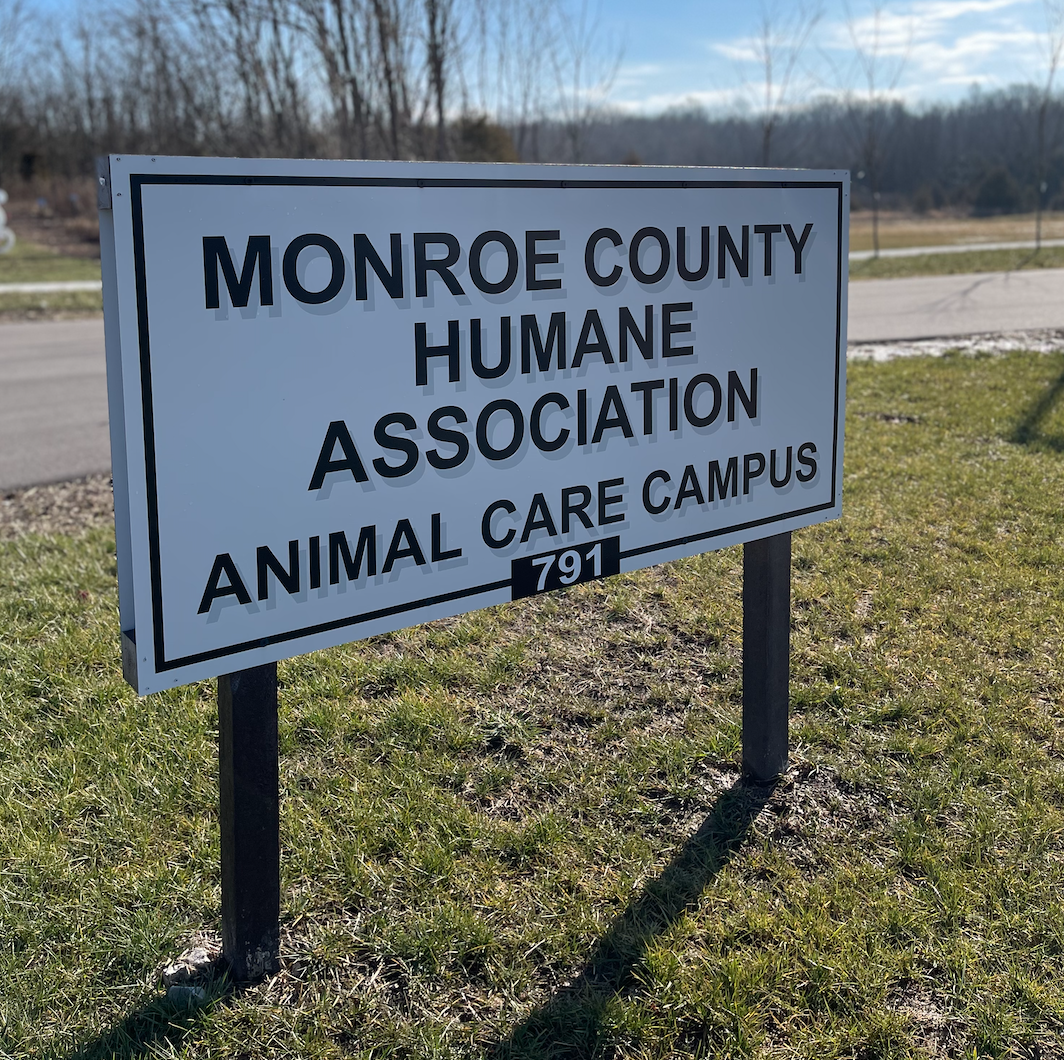 BUILDING phases
PHASE ONE
Completed April 2020
• Full-service Nonprofit Veterinary Clinic that provides both surgery services and wellness care, dedicated to providing accessible veterinary care, but is open to the public for all services, with tiered pricing
• Pet Food & Supply Pantry
• Dedicated space for grooming & bathing
Completed April 2020
• E. Susan Bartlett Housing Center to house dogs and cats for clients that find themselves in need of emergency housing due to domestic violence, relocation, homelessness, inclement weather, emergencies, or health-related stays
• Pet Food & Supply Pantry workspace and holding area 
• On-site storage
• Education Center with a program room and classroom for hands-on demonstrations and professional veterinary workshops
• On-site administration offices 
• Opportunity for on-site education, birthday parties, club meetings, and workshops
The new construction of the Animal Care Campus allows you to share in the lasting legacy that this facility will leave on our community and it's animals for years to come. All sponsorships will be forever memorialized on a donor recognition wall in the lobby and with an engraved plaque near or on the sponsored room or equipment. View available naming opportunities here. To learn more,  email us.
MAILING ADDRESS
P.O. Box 1334
Bloomington, IN 47402
ANIMAL CARE CAMPUS
791 S Fieldstone Blvd
Bloomington, IN 47403
Sunday: Closed
Monday: 10 a.m.–4 p.m.
Tuesday: 10 a.m.–6 p.m.
Wednesday: 10 a.m.–6 p.m.
Thursday: 10 a.m.–6 p.m.
Friday: Closed
Saturday: Closed
Monroe County Humane Association is a 501(c)3 nonprofit organization that relies on donations, sponsorships, and grants to fund all of our programs and services. EIN: 35-6064277 
The Monroe County Humane Association proudly collaborates, but is distinct from, the City of Bloomington Animal Shelter. For services such as adoption, lost/found pets, shelter hours, and animal control, feel free to reach out to our friends at the City of Bloomington Animal Care & Control at 812-349-3492. Together, we're caring for our community's animals.